The Peace Network is back in Hawaii.
In mid-June 2007 we brought the Peace Network back to Hawaii, the Big Island. This happened at Pu'uhonua O Honaunau, a sacred place for the indiginous Hawaiians.
n addition to the energy of the Peace Network, the energy of Pu'uhonua O Honaunau has been carried around the world.
We call this energy the energy of Lemuria.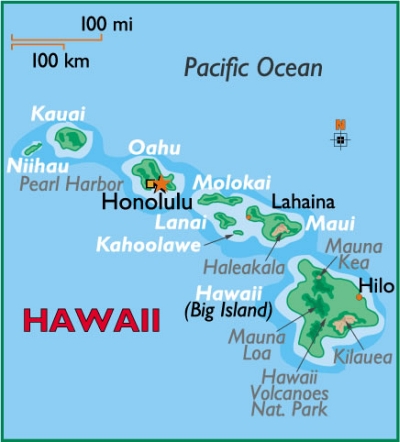 Map: islands of Hawaii
It strongly appeared that our presence on the Big Island has had an effect on the volcanic activity of the island of Hawaii. Or was that all coincidence?
The crater, Pu'u O'o, of the Kilauea volcano had been active every day for more than 23 years. We arrived on the island on June 16, 2007; on this day the activity of the Kilauea ceased. The liquid magma in the crater had receded into deeper layers and there were no more lava flows flowing into the sea.
Sixteen days later, on the day we left the island, lava flows resumed and Pu'u O'o became visibly active again. In these sixteen days, several hundred small earthquakes have been recorded on the island as a characteristic of underground activity, and new fissures have formed in the volcano next to this crater.
It seems that the Kilauea has made a restart and that allowed the growth of the island to continue.
It is understandable that these changes were news to Hawaiian television. It was striking that at the end of July 2007 a Dutch television channel broadcast a small eruption of this volcano as news. Is there more to this?
The energy of the Peace Network has been reaffirmed on the plateau of Puako and in Waipio Valley, the valley of the Kings.
The energies of the Peace Network, Uluru and Lemuria have intertwined on their path across the Earth and now form a trinity. These energy lines are fed from various sources on our planet and from the cosmos. These bundled energy lines will have more and more new branches.
A general question that can be asked is: was it a coincidence, or did it a coincidence with you?